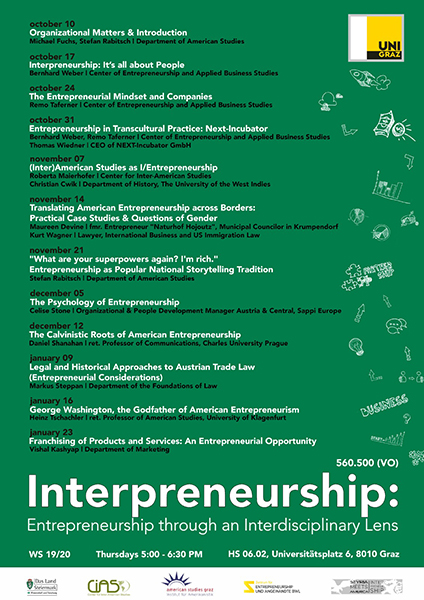 Lecture
Series
"Interpreneurship"
Has
Started
by Michael Fuchs

Hits: 1032
The "Interpreneurship: Entrepreneurship through an Interdisciplinary Lens" lecture series has started.
Steve and I just finished the opening lecture in our lecture series, which is step one of our teaching-related activities in this project.
The lecture series takes place Thursdays at 5pm in lecture hall 06.02 (Vorklinik). It's open to the public, so anyone interested in the entire lecture series or individual talks is welcome to swing by. Students may also take the lecture series for credits.
All of the presentations will be uploaded to the University of Graz's Moodle platform; if the presenters agree, we will also post the talks for the public here.
Here's the list of the talks (and here's the poster to circulate):
October 10
Stefan Rabitsch & Michael Fuchs (Department of American Studies & Center for Inter-American Studies)
Organizational Matters & Introduction
October 17
Bernhard Weber (Center for Knowledge and Innovation Transfer & Center for Entrepreneurship and Applied Business Studies)
Interpreneurship: It's All About People
October 24
Remo Taferner (Center for Entrepreneurship and Applied Business Studies)
The Entrepreneurial Mindset and Companies
October 31
Thomas Wiedner (CEO of NEXT-Incubator)
Entrepreneurship in Transcultural Practice
November 7
Roberta Maierhofer (Center for Inter-American Studies) & Christian Cwik (Department of History, University of the West Indies)
(Inter-)American Studies as Inter-/Entrepreneurship
November 14
Kurt Wagner (Lawyer, International Business and US Immigration Law)
Translating American Entrepreneurship across Borders
November 21
Stefan Rabitsch (Department of American Studies & Center for Inter-American Studies)
"What are your superpowers, again? I'm rich!" Entrepreneurship as Popular National Storytelling Tradition
December 5
Celise Stone (Organizational & People Development Manager, Sappi Europe)
The Psychology of Entrepreneurship
December 12
Daniel Shanahan (retired Professor of Communications, Charles University, Prague)
The Calvinistic Roots of American Entrepreneurship
January 9
Markus Steppan (Department of the Foundations of Law)
Legal and Historical Approaches to Austrian Trade Law
January 16
Heinz Tschachler (retired Associate Professor for American Studies, University of Klagenfurt)
George Washington, the Godfather of American Entrepreneurism
January 23
Vishal Kashyap (Department of Marketing)
The Franchising of Products and Services: An Entrepreneurial Opportunity